SRAM RED eTap AXS HRD 2x12 Upgrade Set with Hydraulic Disc Brakes - Flat Mount - Centerlock

SRAM RED eTap AXS HRD 2x12 Upgrade-Set with hydraulic Flat Mount Disc Brakes consisting of:
SRAM RED eTap AXS HRD Shift-Brake-System right | front / left | rear w/Flat Mount calipers
SRAM RED eTap AXS front derailleur 2-speed
SRAM RED eTap AXS rear derailleur 12-speed
SRAM Centerline XR Rotor - Centerlock - 160mm
SRAM eTap Batteries
SRAM charger

The SRAM RED eTap AXS™ is much more than an evolution. It is a 12-speed revolution. The developers of SRAM created a groupset that is as capable as today's riders and the bikes that they choose. It offers more range, a smoother gear progression, as well as smarter shift settings —enabled by AXS™ and the simplicity of eTap® shift logic—so that you are always in the right gear.

AXS™ (Access) allows you to easily personalize the groupset right from your phone and enable your choices while riding. The SRAM AXS™ app allows riders to see battery status, change component behavior, personalize controls, get maintenance reminders, and update firmware.
Featuring SRAM's advanced shift logic (right lever makes it harder, left lever makes it easier, both levers to change the front ring for 2-speed setups) with SRAM RED eTap you will shift more, with less effort and spend less time doing it. Shifting has never been more intuitive or as easy as this. And SRAM RED eTap is engineered to go the distance. It has been rigorously and successfully tested for years on the professional and WorldTour level. And now, it is ready for the rest of the world. Are you ready to shift forward?

SRAM RED eTap AXS HRD Shift-Brake-System left | front / right | rear with Flat Mount calipers
Fully wireless electronic shifting combined with fully hydraulic road disc brakes (HRD). Award-winning eTap® shift logic, now with the connectivity of AXS™.

The SRAM RED eTap AXS™ HRD shift-brake system is the future. And the future is custom. AXS™ enabled and easily personalized for hand size and reach, this is the best shifting and braking experience—for all riders.

The HydroHC™ brake platform levers can be personalized for your hands and preferences using Contact Point Adjustment™ and separate Reach Adjust™.
These ErgoFit™ controls with are equipped with textured hoods for a better feel. You will shift more, with less effort and spend less time doing it. Carbon ErgoBlade levers and large SRAM eTap more textured shift paddles provide positive controls for rider input.
Each lever features two ports for Blips™ shifters (not inclued) and Bleeding Edge™ technology for easy and clean brake bleeds.
Designed specifically for road riding, the SRAM CenterLine XR rotor is the perfect complement to a new SRAM eTap AXS™ drivetrain. It is has a streamlined spider form that is optimized for road use. The rounded edges make for easier wheel installs and are UCI-compliant.

SRAM RED eTap AXS Front Derailleur 2-speed - leverages the advancements with X-Range™ gearing
The elegant and streamlined derailleur design carves out space for wide rear-tire clearance, making it a perfect fit for modern riding. And the shifting is responsive, quick and precise thanks to Yaw™ trimless cage technology with an optimized cage profile for the latest SRAM RED® front chainring combinations.

SRAM RED eTap AXS Rear Derailleur 12-speed - The heart of the connected cadre
The SRAM RED eTap rear derailleur is AXS™ enabled for easy personalization and designed for both 1x- and 2x12-speed systems. The advanced Orbit chain management keeps it silent and secure no matter the terrain. The derailleur also comes with faster -because they are larger X-Sync pulleys, ceramic bearings, improved motors and signals, improving speed in every way.
Wireless connection via AIREA network for fast and clean installation.

SRAM RED eTap AXS Battery Charger
eTap batteries are literally a snap to remove and charge.
Just flip the tool-free battery latch up and slide the battery up and out of the derailleur. Then snap the battery into the USB powered charger and connect the charger to any USB power source or A/C USB adaptor.
All SRAM eTap AXS components are compatible with existing eTap® batteries!

SRAM Technologies
eTAP
All of the underlying tech in our new SRAM RED® eTap groupset such as wireless shifting, advanced battery power management and mechatronics technologies are all meant to serve one ultimate purpose, to facilitate the most intuitive and consistent shifting available. This shift logic is called eTap. Right lever makes it harder, left lever makes it easier, both levers shift the front derailleur. Simple, unmistakable, and intuitive.

Airea
Utilizing 128-bit encryption, eTap shift signals are transmitted and received in accordance with SRAM's proprietary wireless protocol known as AIREA. Each time an eTap groupset is paired, a new encryption code is generated and assigned to the components in this group to ensure complete shifting security.

Orbit™
Orbit™ technology is an innovative new form of rear derailleur motion control. It utilizes silicon fluid as part of an elegant and ultralightweight damper system. Compared to a standard friction clutch system, Orbit™ technology places no additional resistance on the rear derailleur's spring when under slow or light movement. This means easier shifting and rear wheel removal. And while riding, the fluid damper reduces chain bounce. It is rock-solid reliability for both 1x and 2x systems.

Yaw
The front derailleur cage rotates to maintain a consistent angular relationship with the chain. Yaw technology eliminates the need for shifter trim. As a result, shifts feel more direct, more precise, and combined with the new Red crankset and chainrings, delivers an unmatched performance advantage in front shifting.

Bleeding Edge
Bleeding Edge™ technology makes bleeding brakes quick and simple. An updated fluid path and bleed porting make it easier to push fluid through the caliper. A dedicated bleed adapter plugs into the bleed port and seals the system to minimize air contamination and fluid loss.

Contact Point Adjustment™
Some people like the instantaneous power of a short lever throw. Others prefer the feel of a longer throw. With Contact Point Adjust, you can pick the position you want your fingers to be in when your brakes are engaged. It's a quick and easy way to customize the feel of your brakes without having to move the pads. It's also a way to balance both brake levers to feel exactly the same.

Reach Adjust
Brake lever fit and feel is a personal thing. Riders have individual positioning preferences, as well as unique hand sizes and finger lengths. Reach Adjust makes it easy to adjust your lever for maximum one-finger control for everyone.
Included in delivery:
Rear Derailleur 12-speed
Front Derailleur 2-speed
HDR Shifters left & right with flat mount brake calipers FW & RW with brackets
2x eTap Batteries
2x 160mm Centerline Centerlock XR rotors
Battery Charger
Quick starter guide
(00.7918.078.010)
| | |
| --- | --- |
| SKU | 00.7918.078.010 |
| Brand | SRAM |
Be The First To Review This Product!
Help other PDL Bike users shop smarter by writing reviews for products you have purchased.
More From This Category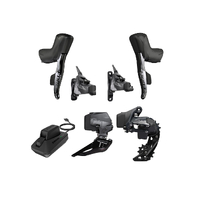 SRAM Force eTap AXS 2X 12-Speed Road Kit
$1,650.00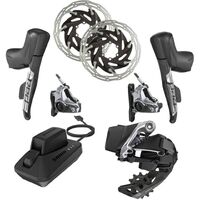 SRAM RED eTap AXS 1X 12-Speed Road Kit
$3,299.00