Give your Shimano XTR, Tiagra, 105, Ultegra, Dura-Ace, or GRX system a refresh with new brake pads. Available in a semi-metallic compound, these brake pads offer a blend of durability and strong braking power so whether you're in the heat of a cyclocross race or out for a weekend group ride, you'll be able to count on your brakes when you need them.
These brake pads are a direct replacement for a number of flat mount Shimano systems, including:
Shimano Deore XT M8100 Series
Shimano SLX M7100 Series
Shimano Dura-Ace R9150 Series
Shimano Ultegra R8050 Series
Shimano 105 R7000 Series
Shimano Tiagra 4700 Series
Shimano Metrea U5000 Series
Shimano GRX 11-speed
Shimano GRX 10-speed

Each set includes pads and a spring to replace the brake pads on one caliper.
Different Types of Disc Brake Pad Compounds
Typically you'll find that there are three types of compounds to choose from when buying new brake pads for your disc brake equipped bike. They are:
Organic
Semi-Metallic
Sintered

Each of these brake pad compounds will provide a different feel during braking. You'll also find that one compound may last longer compared than another depending on the type of rider you are and the amount to which you use your brakes.
What compound should I choose?
Choosing a compound ultimately depends on the type of riding you are doing. In most cases a semi-metallic pad will exceed the needs of most riders because it combines the durability of sintered with the feel of organic compounds. To make sure you're getting the best pad for your riding style, review the benefits of each below.
Organic Brake Pads
Organic disc brake pads are made completely of resin and are a much softer compound than a semi-metallic or sintered pad. This softer material means they have a much stronger initial bite and can be easily modulated depending on how much power you need. However, the softer material also means they heat up much faster than a pad with metallic compounds added, so they can fade on steeper or longer descents where a lot of braking is required.
Besides how they feel, another benefit to organic pads is that they break in quickly. Once installing them into the caliper, it only takes a few moments to have the pads feeling strong and ready to go. Semi-metallic, and especially sintered, take much longer to bed in.
| | |
| --- | --- |
| ORGANIC PAD PROS | ORGANIC PAD CONS |
| - Strong initial bite | - Faster wearing |
| - Easy to modulate | - Prone to fade under intense braking |
| - Quietest | - Not ideal for adverse conditions (wet, mud, etc.) |


Semi-Metallic Brake Pads
Semi-metallic brake pads are an all-round solution for most common conditions, where brakes are not getting extremely hot. They work best for dirt jumping, cross country and lighter enduro rides with shorter downhill segments. They'll even be more than capable for downhill riders who aren't standing on the brakes all the way down, or for lighter riders.
With a high percentage of iron and copper added to the resin in the compound, semi-metallic pads offer a longer life and more heat resistance compared to organic disc brake pads. The metal compounds add longevity and the resin allows for the pad to have high friction against the brake rotor right away.
Because of this, you'll notice semi-metallic brake pads have a stronger initial bite when you begin to pull the brake lever. If you prefer your brakes to grab and feel strong from the start, semi-metallic pads should be your first choice.
| | |
| --- | --- |
| SEMI-METALLIC PAD PROS | SEMI-METALLIC PAD CONS |
| - Great initial bite | - Wears faster than sintered |
| - Easy to break-in | - Not ideal for adverse conditions (wet, mud, etc.) |
| - Quieter | |
Sintered Brake Pads
Sintered pads, also known as metal or metallics, are brake pads that are completely made up of hardened metal, bonded together with high heat and pressure. There are no resins present in sintered brake pads making them much more durable than a semi-metallic or organic pad.
Sintered disc brake pads are perfect for larger riders, braking on steeper descents, or riders who have had to deal with brake fade issues. While the initial bite of sintered brake pads are not as strong as semi-metallic or organic compounds, they can handle way more heat.
Sintered brake pads also provide a more consistent feel and can be easily modulated, giving your brakes a progressive feel at the lever, rather than only being on or off.
Sintered pads also shine across a wider range of conditions. They are less likely to be effected by dust, mud, or water than other pad types.
| | |
| --- | --- |
| SINTERED PAD PROS | SINTERED PAD CONS |
| - Longer lifespan | - Longer break-in period |
| - Work better in all conditions | - Lower initial bite |
| - Fade at higher temperatures | |
(MI-PAD-27)
VERSATILE, ALL-WEATHER USE: Semi-metallic brake pads are best suited for daily urban rides, dirt, XC, E-bikes, trail and light enduro rides, where bikers are not pumping on their brakes continuously. Rides are more fun with the smooth and effortless braking mechanism. Enjoy quieter rides and less rotor wear compared to sintered counterparts.
PREDICTABLE PERFORMANCE: Bikers have the benefit of significantly better brake performance compared to organic brake pads. You have better peace of mind with consistent and stable performance to cover a wide range of applications. Semi-metallic brake pads tend to function better in colder riding conditions.
PRICE-PERFORMANCE RATIO: Semi-metallic brake pads offer the benefit of a comfortable, firmer brake pedal feel. They are a valuable solution to bikers who are looking for a safe, durable braking solution that does not break their budget.
DURABLE: Durable metallic construction along with Kevlar additive makes these brake pads long-lasting. Special iron and copper compound formulation gives better resistance to heat.
RELIABILITY & COMPATIBILITY: Experience highly reliable, fade-free braking performance on road bikes, touring bicycles, e-bikes, e-MTB cycles, and low impact mountain bikes. Non-asbestos construction further ensures biking safety. Made in Germany and tested by independent testing companies. Check the list of compatible brake systems for a complete list of compatible brakes.
Compatibility
SHIMANO
BR-RS305
BR-RS405
BR-RS505
BR-RS805
Dura Ace BR-R9170
GRX BR-RX400
GRX BR-RX810
Metrea BR-U5000
Tiagra BR-4770
Ultegra BR-R8070
XT BR-M8110
XTR BR-M9100 (from model series 2018)
XTR BR-M9100 (from model series 2018)
105 BR-7070
TEKTRO
HD-R310
REVER
| | |
| --- | --- |
| SKU | MI-PAD-27 |
| Brand | Miles Racing |
Usage Tips:
To get the most braking power out of your new semi-metallic pads, it is important to follow these steps to break them in properly.
Brake for 5 seconds while riding at a speed of about 7 mph. Repeat this process 3 more times.
Brake from about 20 mph with medium power and release before coming to a complete stop. Repeat this process 20-30 times. You should feel the brake performance increase. Let the pads cool between each stop.
Done - Ready for action!
Attention: To avoid glazing, sintered brake pads need a running in time without heat development. The first 200 brake applications should get done controlled under lower speed. This process helps to roughen up the surface of the friction material. Because of the high metal portion, sintered brake pads need a disc with bigger holes on the braking surface, to keep the surface of the friction material rough.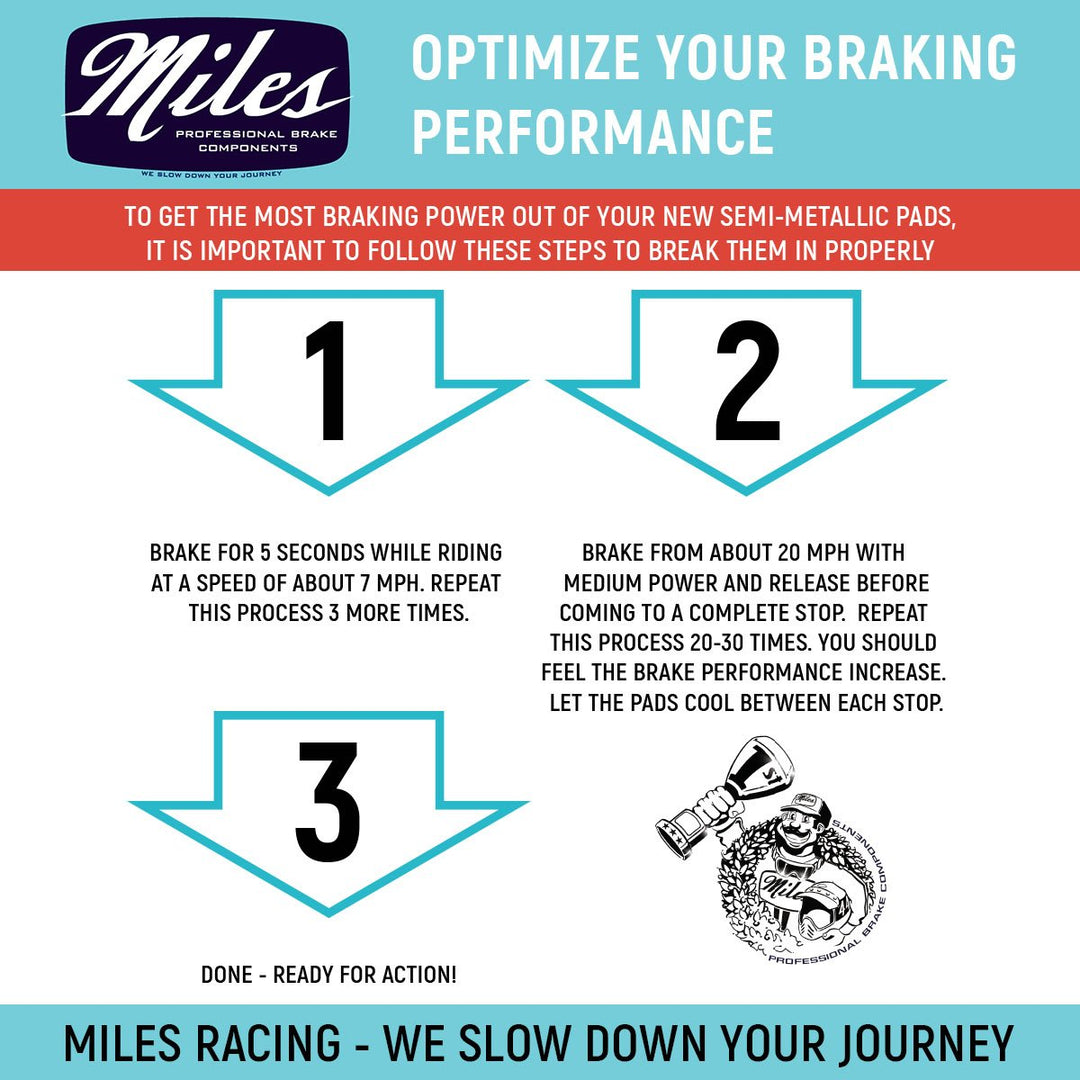 Be The First To Review This Product!
Help other PDL Bike users shop smarter by writing reviews for products you have purchased.
Others Also Bought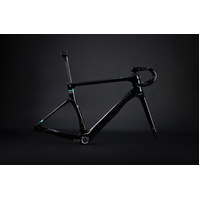 Chapter2 KOKO Disc Frameset - Gloss Black (Tuhua)
From $5,199.00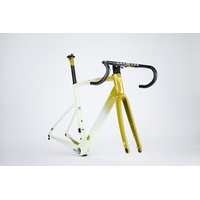 Chapter2 TOA Disc Frameset - Tongariro
From $5,199.00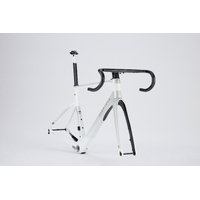 Chapter2 KOKO Disc Frameset - White + Grey (Taurip
From $5,499.00
More From This Category