HURU
Meaning "feather" in Maori
If the joy of being in the zone and scaling gradients that pushes you to the limit is what stirs you, then the HURU is the perfect tool for the job. HURU means "feather" in Maori and its classic contours cleverly disguise the engineering needed to develop a high-performance lightweight frame.
As the saying goes, "what goes up must come down", so whilst the HURU has you covered for the former, the HURU also excels in the latter so that you can descend confidently on a frame platform that has cornering dexterity that matches its climbing prowess.
The pencil-thin Seatstays that dampen road vibrations is beautifully merged into the Seattube and Toptube junction that supports our lightweight TUMU 27.2mm seatpost.
Available in Disc and using over 300 unique pieces of Pre-Preg Carbon Fibre carefully laid into stainless steel moulds by hand, the HURU is the ultimate alpine machine.
(118062FS09)
LIFETIME WARRANTY

All CHAPTER2 framesets (frame, forks, seatpost, and other parts provided with frame at time of purchase) and MANA Bar and associated parts are covered under our global lifetime warranty program. Your warranty period begins from the time of purchase.
CHAPTER2 warrants that your frame, fork, and/or seatpost and other parts supplied with the frame are free of any manufacturer's defects and are only applicable to the original purchaser and may not be assigned.
This warranty only applies to CHAPTER2 products purchased from our website or from an authorised dealer or distributor.
This warranty commences from the date of purchase, is offered only to the original retail purchaser, and is not transferable.
Exceptions:
Consumable parts/accessories such as hangers, cable stops, seatclamps, saddle clamps, etc. are not covered under this warranty.
The paint and decals on your CHAPTER2 frame, fork, and/or seatpost and other CHAPTER2 branded parts/accessories are only covered for a period of 2 years from the time of purchase.
The warranty excludes damage whilst the frame, fork, and/or seatpost are being used on a stationary trainer.
Damage caused by abuse, misuse, improper assembly, rental, improper or insufficient maintenance, accident, impact, corrosion, use of aggressive cleaners, use with non-compatible components, improper repairs, and wear and tear is not covered under this warranty.
We reserve full rights to replace defective frames, forks, and/or seatpost with the closest available match or a relevant successor model at our discretion or else carry out repairs to them. CHAPTER2 will not warrant any product that has been previously covered or replaced by CHAPTER2. A warranty product, in all circumstances, does not prolong the warranty period and/or initialize a new warranty period. These benefits constitute the Limited Warranty's entire scope.
In order to avoid any bogus/fraudulent warranty claims, we have put in place a purchaser pays for return for inspection policy. After our engineers have inspected the claim and provided that the claim is approved, we will pay for the repaired/replaced parts' shipping cost and also reimburse your shipping cost upon receipt of proof of payment to a reputable courier or Speedpost service. If the claim is rejected, we will return your frame part at our cost.
Your CHAPTER2 frames, handlebars, and associated parts have been designed to EN ISO 4210:2014 standard. Any misuse of your road bike, such as carrying additional passengers/children or loads, carrying luggage, and attaching parts not specifically designed for the frame will void your warranty.
The cost of replacing other parts and/or components that do not bear the CHAPTER2 and/or C2 logos that may have been damaged or affected by the manufacturer's defect is not covered by this warranty. Additionally, the cost of labour and material associated with the replacement of the CHAPTER2 frameset and associated parts are not covered under this warranty.
The foregoing limited warranty is exclusive and in lieu of all other warranties of quality and performance, written, oral, or implied. All other warranties, including any implied warranties of merchantability or fitness for a particular purpose, are hereby disclaimed. In no event shall CHAPTER2 be liable for special, indirect, incidental, consequential, statutory or exemplary damages, whether in contract, tort, negligence, strict liability or otherwise including, without limitation, loss to property other than this product, loss of use of the said product, or other property, or other economic losses. CHAPTER2 shall not be liable for contribution or indemnification, whatever the cause.
Some jurisdictions do not allow limitations on how long an implied warranty lasts and/or the exclusion or limitation of incidental or consequential damages, so the above limitation and exclusion may not apply to particular customers. CHAPTER2's obligations under any warranty shall be limited, to the greatest extent allowed by law, as provided in CHAPTER2 limited warranty. This limited warranty gives you specific legal rights; you may also have other rights, which vary from one jurisdiction to another.
All claims must be submitted directly to CHAPTER2 via email to info@chapter2.co.nz and must be accompanied by the following information:
Copy of the original receipt showing purchaser's name, purchase date, and serial number.
Photograph clearly showing the serial number under the bottom bracket.
3-4 photographs showing the defective area.
Photo of whole bike left and right side.
The above is the minimum requirement. To ensure a quick resolution of any warranty claim, make sure you provide the requested information, and please use a proper camera under good lighting conditions with high resolution.
| | |
| --- | --- |
| Lightweight Design: | Improved Climbing Performance |
| High Modulas Carbon (Headtube): | Increased Cornering Performance |
| High Modulas Carbon (BB): | Increased Power Transfer |
| Rim & Disc Options: | Both Options Available |
| Frameset Only: | Bespoke & Personal |
| Limited Edition: | Exclusivity |
FRAME SPECS:
Carbon:
Toray® T1000, T800 and 3K Directional Carbon
Frame 5 Sizes:
XS, S, M, L & XL
Fork 2 Sizes:
XS, S (53mm offset) and M, L, XL (43mm offset)
Frame Weight:
789g (Rim) & 819g (Disc) Size M +/- 3%
Fork:
379g (Rim) & 389g (Disc) Uncut +/- 3%
Seatpost:
Reversible Seatpost 219g +/- 3%
Stem:
Not included
Headset:
CHAPTER2 1-1/8"
BB:
Press Fit BB86.5
Electronic Shifting:

SHIMANO® Di2, SRAM® eTAP & Campagnolo®
EPS compatible

Battery Type:
Di2 SM-BTR-2 and EPS V3 Battery compatible
Tire Clearance:
28mm
Brake Type:
Direct Mount Type
Disc Thru-Axle Spec:
Flat Mount
FR 12x100mm, RR 12x142mm
E-Thru M12x1.5mm
Safety Standard:
EN ISO 4210:2014
UCI Accreditation:
UCI Approved
TORQUE SPECS:
| | |
| --- | --- |
| Saddle Rail: | 8Nm |
| Seatclamp: | 6Nm |
| Front Derailleur Hanger: | 3Nm |
| Rear Derailleur Hanger: | 2Nm |
| BB Cable Guide Cover: | 1Nm |
| Thru-Axle: | 10Nm |
| Water Bottle Cage Bolts: | 3Nm |
WHAT YOU GET:
Frame
Fork
C2 fork expansion bolt
C2 TUMU Seatpost
Headset
Headset spacer kit
Seatpost
Thru Axles
| | |
| --- | --- |
| SKU | 118062FS09 |
| Barcode # | 4897100103856 |
| Brand | Chapter2 |
| Unit Of Measure | ctn |
Be The First To Review This Product!
Help other PDL Bike users shop smarter by writing reviews for products you have purchased.
More From This Category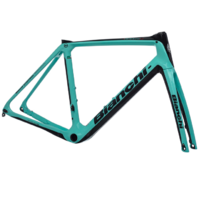 Bianchi Infinito CV Disc Frameset (Disc Brake)
From $3,999.00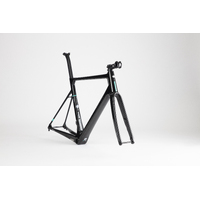 Chapter2 TERE Frameset - Gloss Black (Tuhua)
From $4,699.00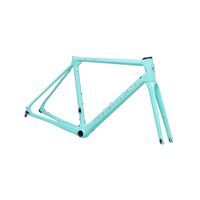 Bianchi Specialissima Disc 2023 Frameset
From $6,499.00